Holbrook Landcare Network often has opportunities for landholders to access incentive funding for revegetation on farms through various projects. We may also have opportunities to participate in volunteer activities such as planting. We currently have funding available under two projects, BushConnect and Connected Corridors.
RMS Woodland Bird Offset
Slopes2Summit BushConnect
The Slopes2Summit (S2S) BushConnect project, supported by the NSW Environmental Trust, has opportunities for farmers in two priority local landscapes
Woomargama – Woomargama National Park to Tabletop/Benambra Nature Reserve
Holbrook Landscape Morgans ridge to the Billabong creek
Holbrook – Morgans Ridge to Nest Hill Nature Reserve
Actions that can be completed under these project include:
Fencing remnant vegetation in identified corridors to manage grazing
Habitat enhancement of existing areas in identified corridors – eg. Nestboxes, placing fallen logs, adding understorey plants
Fencing and revegetation to create or enhance identified corridors
Fencing creeks and waterways
Please follow the links for more information
Slopes2Summit Bushlinks
The S2S Bushlinks is a revegetation project being managed by Holbrook Landcare Network on behalf of the Slopes2Summit and the Great Eastern Ranges Initiative in partnership with Murray LLS.
We are lucky that the landscape in the eastern Murray is unique, and parts of it have intact 'infrastructure' for wildlife;
Large remnants and reserves on public and private land for populations to live and breed in, and remnant vegetation and revegetation in the farming landscape to allow them to move around.
S2S Bushlinks gives farmers access to local information to help planning to integrate biodiversity with the farm business and investing in on-farm environmental assets.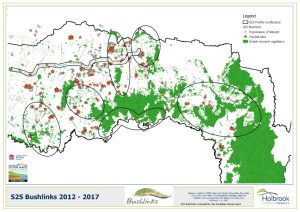 The project has worked with over 90 landholders in the S2S region to undertake on-ground activities at 189 sites to protect and increase vegetation in the region. Just over 1220ha of vegetation was protected and restored with final work to be completed in May 2017. This Biodiversity Fund project, funded by the Australian Government, has invested $1.4 million dollars in fencing and revegetation on farms in the region over 5 years, which has been matched by landholder contributions.
The outcomes for biodiversity in the regions are an increase in vegetation cover of 1200 ha and an improvement of connectivity for some species in local landscapes. The next six months will analyse data collected and revisit all sites to assess the condition change and the potential impact on species.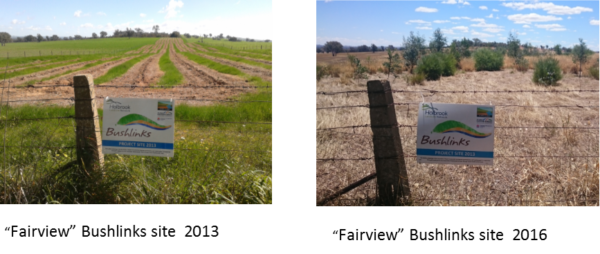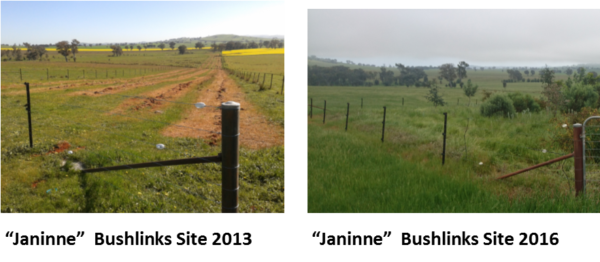 Connected Corridors
The Connected Corridors project is supported by Local Land Services through funding from the Australian and NSW Government. The project intent is to improve riparian (creek) native vegetation connectivity by providing revegetation and infrastructure services and support to landholders to actively manage and establish native vegetation on their properties.