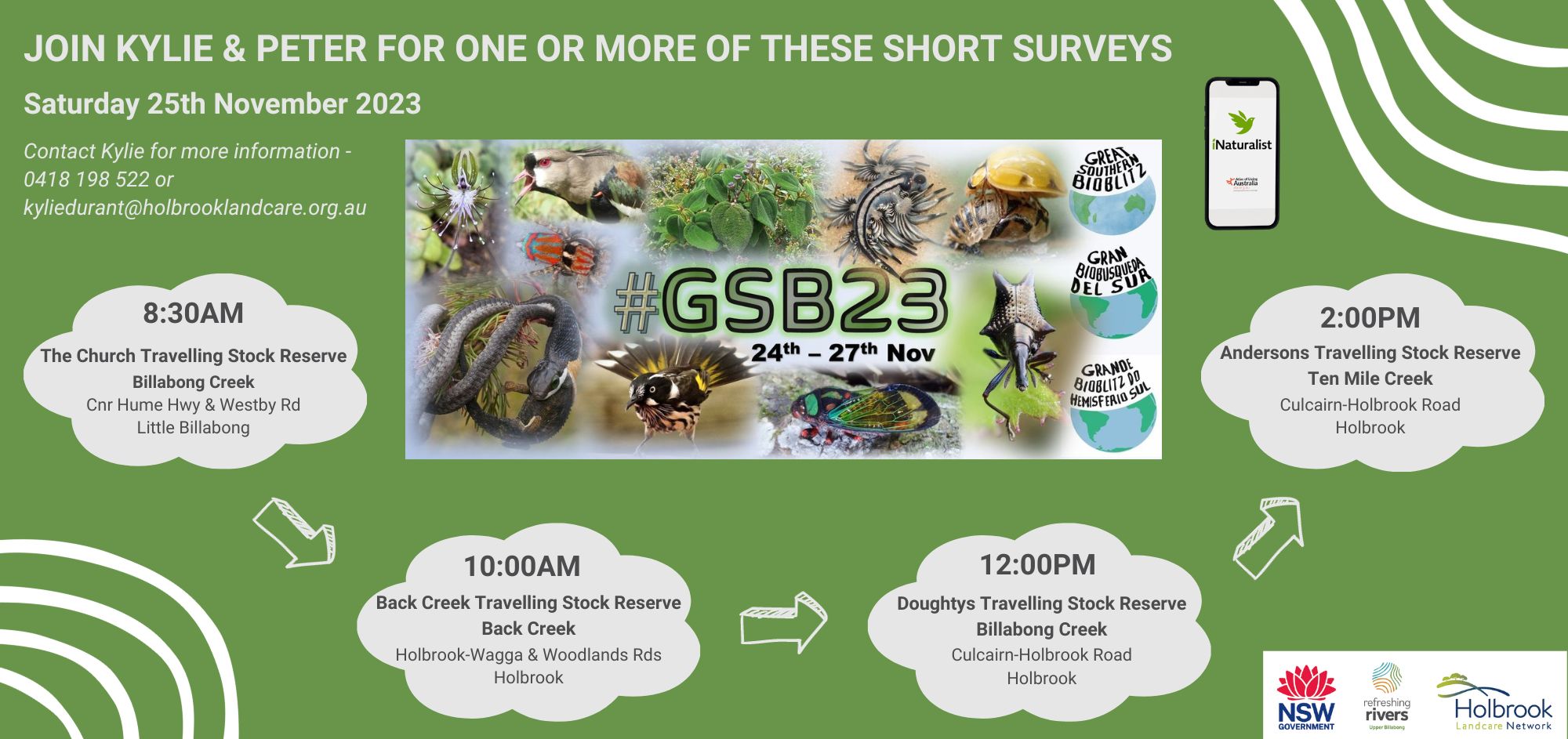 Tag-a-long BioBlitz Surveys
Join Kylie & Peter for one or more of these short tag-a-long BioBlitz surveys
Saturday 25th November 2023
Contact Kylie for more information & to arrange to meet us – 0418 198 522 or [email protected]
Holbrook Landcare Network and Refreshing Rivers are participating in the Great Southern BioBlitz 2023, with a focus on our creeks and waterways – Love Your Creek!
HLN's BioBlitz team of Kylie Durant and Peter Rowland are heading to some of Kylie's favourite Upper Billabong sites, and we'd love you to come to one, some or all of them!
The Refreshing Rivers Program is a collaboration between government, industry, research and Community organisations, led by Local Land Services. This Program has been assisted by the New South Wales Government through its Environmental Trust.
Check out the Refreshing Rivers website for more information on this program
Hourly Schedule
Tag-A-Long Surveys
08:30

-

09:30

The Church TSR

The Church Travelling Stock Reserve Billabong Creek Cnr Hume Hwy & Westby Rd Little Billabong
10:00

-

11:00

Back Creek TSR

Back Creek Travelling Stock Reserve Back Creek Holbrook-Wagga & Woodlands Rds Holbrook
12:00

-

1:00

Doughtys TSR

Doughtys Travelling Stock Reserve Billabong Creek Culcairn-Holbrook Road Holbrook
2:00

-

3:00

Andersons TSR

Andersons Travelling Stock Reserve Ten Mile Creek Culcairn-Holbrook Road Holbrook