Soil Quality and Health in Pasture Systems
'Soil quality and health in pasture systems' is a two year project funded by the Australian Government's National Landcare Program. In this project, Holbrook Landcare Network propose to develop benchmark and extension information on key quality and health for our local soils. This will contribute to our capacity to influence managers of permanent pastures and achieve better outcomes for groundcover, soil health and productivity. Soil sampling and analysis of our soils database will create a soil health snapshot for five of the region's main soil types, and four different farming systems across three differing rainfall zones.
In early August 2021, the first stage of soil sampling was completed in 16 pasture paddocks across the region (from Gerogery in the west to Tumbarumba in the east). The 16 pasture paddocks were grouped into four different farming systems:
Improved pasture with high fertiliser history,
Improved pasture with low fertiliser history,
Native pasture with no fertiliser history, and
Multi-species pasture with various fertiliser histories.

A range of field measurements were conducted at each site including the 'Soil Your Undies' test, and the topsoil (0-10cm) was sampled and sent to a laboratory for various soil biology tests. In early October 2021, the undies were dug up and assessed for level of decomposition, and the sites were resampled (to a depth of 30cm) and analysed for standard soil chemical properties. Analysis of the results is currently in progress.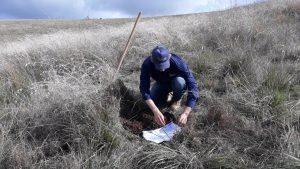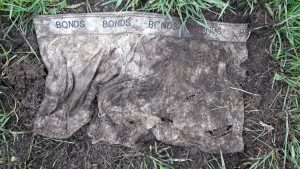 Following this project, Holbrook Landcare created a four-part video series on soil health.