What is Natural Capital?
NATURAL CAPITAL is the stock of natural resources that people, communities and the environment use to live and thrive: soil, water, mineral resources, living organisms, biodiversity, ecosystems, etc.
What are Ecosystem Services?
ECOSYSTEM SERVICES are the benefits people derive from healthy ecosystems: pollination, recreation, decomposition, water purification, carbon storage, erosion and flood control, climate regulation, etc.
What is Environmental Stewardship
ENVIRONMENTAL STEWARDSHIP is an approach that seeks to maintain and, where possible, enhance NATURAL CAPITAL and ECOSYSTEM SERVICES , rather than depleting or degrading them.
What are Environmental Services?
ENVIRONMENTAL SERVICES are actions taken to manage, protect and enhance the NATURAL CAPITAL and ECOLOGICAL SERVICES provided by the land or waterways. Environmental services include carbon sequestration, biodiversity and threatened species protection, landscape protection, erosion management, water quality improvement, and control of pests and weeds.
What are Environmental Markets?
ENVIRONMENTAL MARKETS offer incentives to preserve and enhance ecosystems and natural assets. These markets are an innovative approach which favour environmental conservation financing and complement traditional conservation programmes. Eligible land managers who demonstrate that their environmental services have positive environmental outcomes. Some current example are carbon and biodiversity markets.
What is ESG?
Environmental, Social and Governance (ESG) is a reporting method used by companies and organisations for disclosing their performance in relation to ESG risks and opportunities. It is a measure of the positive or negative impacts that an organisation's activities have on environmental and social factors, as well as the governance standards for how the organisation is run.
Landcare-Led Landscape Resilience – tools and data for restoration decisions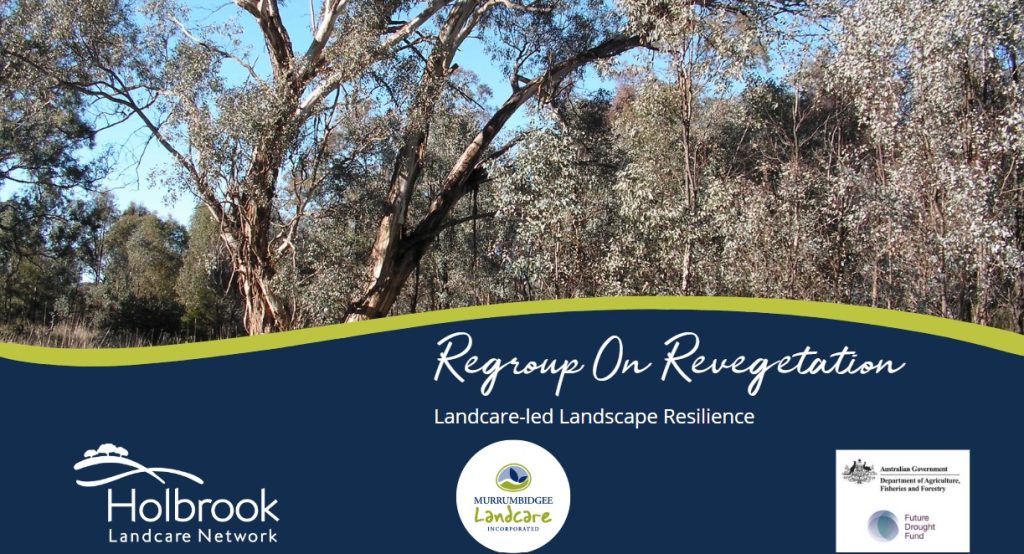 Join us to discuss the role of revegetation as a means of building natural capital to enhance resilience of farms. Topics for discussion will include how climate change has affected approaches to revegetation; how this fits into the success of future revegetation and achieving environmental, cultural and social outcomes; and preparing for a transition from a grant funding of projects to investment through environmental markets.
About the Project
For 30 years, Landcare has driven grassroots change in natural resource management and landscape restoration, created local knowledge and experience and pioneered an ethical mind-shift in communities. A new era is upon us. Farmers & the Landcare community need to adjust to a future of natural capital income streams forming part of farm business and drought resilience strategies. Decisions about livestock numbers and pasture management made in response to drought conditions will be made easier by the ability to access these markets as alternative income streams. The industry has a target of $100 billion in agricultural exports by 2030 and expects that 5% of this will be in the form of environmental income streams. These will form part of a farm business resilience strategy in the future, ensuring that during drought or other weather extremes, there is an alternative strategy in managing land and stock numbers and being able to maintain viable farm businesses and contribute to maintaining the public good natural capital.
The project will focus on the following key actions:
1. The South-West Slopes & Riverina Revegetation Guides will be updated to ensure they best-practice revegetation techniques, to help guide site selection, site preparation, species selection, planting, ongoing maintenance and monitoring practices. The Guides will aim to build resilience into revegetation plantings, considering the effects of climate change.
2. Current methods will be analysed and refined to ensure that works are implemented with the best available current knowledge, improving the effectiveness of efforts to deliver cost effective, sustainable and climate ready revegetation and restoration projects at an agronomic level.
3. The establishment and development of a local network of demonstration sites utilising modern 'best practice' restoration and revegetation techniques. This will allow for the showcasing of the positive economic, production and environmental impacts of native vegetation restoration, as well as the collection of a robust datasets to inform future efforts. This will be supported by case studies and an effective communication strategy.
4. Lead a community of practice to prepare Landcare & farming communities for transition to market-based instruments to fund revegetation & increase the awareness and uptake of these alternative income streams to drive resilience to drought in farm businesses
Future Drought Fund: Drought Resilient Soils and Landscapes Grants Program
This project is funded through the Federal Government's Future Drought Fund (FDF) Drought Resilient Soils and Landscapes (DRSL) Grants Program.
The FDF is a long-term investment fund that provides a sustainable source of funding to help Australian farmers and agricultural-dependent communities and businesses become more prepared for and resilient to the impacts of drought.
The DRSL Grants Program funds projects that trial and demonstrate how scaling of particular practices (or combinations of practices) to improve management of natural capital can build drought resilience. Through this, the program aims to create and communicate an evidence-base and case studies that contribute to scaling out the successful practices.
Head to the Future Drought Fund website for more information

What will we deliver and why
Through this project we aim to deliver three key outcomes:
Establish trial and demonstration revegetation sites across the Murray and Riverina regions that can be monitored into the future. The site will allow the showcasing the different methods of establishing climate ready revegetation projects. Ongoing monitoring will allow demonstration of:

Climate change adaptability
Suitability of methods for local regions
Feasibility of the revegetation
Cost / benefit analysis (cost of investment and returns via increased resilience, productivity or through alternative income)
Effects on local native biodiversity

Using information gathered throughout the project, revegetation guides such as the South-West Slopes & Riverina Revegetation Guides are updated to ensure modern best practice and readiness for a changing climate. These critical resources will also be digitised and hosted on a modern digital platform to ensure that the content and the accessibility of the guides meet the current and demand for agronomic level advice for restoration projects.
A Community of Practice will be established focusing on a transition to environmental markets as a source of revenue to fund conservation & revegetation projects. Through leadership, farmers, Landcarers and other land managers will be enabled to understand, critique and select market-based instruments and environmental markets to fund future projects.