FRRR Community Impact Program
The Community Impacts Grant is designed to support community members and not-for-profit organisations in remote, rural and regional Australia to drive local action that helps prepare for drought.  It is part of the Australian Government's commitment through the Future Drought Fund to support Australian agricultural communities to build drought resilience
Holbrook Landcare Network (HLN) is the Community Partner Lead Organisation (CPLO) for the FRRR – Future Drought Fund's (FDF) Helping Regional Communities Prepare for Drought (HRCPD) – Community Impact Program (CIP) in the Murray Region. Holbrook Landcare will host a Regional Coordinator position, who will strengthen drought preparedness and drive local action in the Murray region through the coordination and support of the Community Impact Program activities, Leadership workshops and program evaluation.
Another element to the Community Impact Program under the HRCPD is the Community Leadership Activities. This is a partnership between the FRRR and the Australian Rural Leadership Foundation and will support community groups to develop their leadership skills and equip them with networks to respond to drought preparedness in their community. The Murray will be hosting a Community Learning – Changemakers Series of 4 workshops across the region, starting in 2024.
HLN collaborated with a number of other organisations on the proposal, which successfully secured $365,000 in funding for community projects and events across the region. Activities will take place in 2023 through to 2025.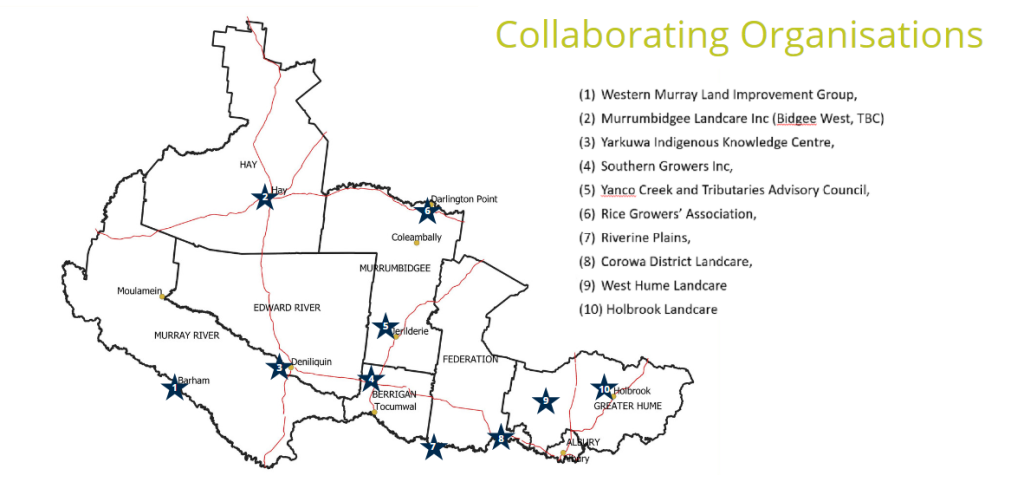 Visit the various organisations' website to find out what's planned for your area or see how you can get involved:
Some of the events and projects to be funded across the Murray region will include:
The Holbrook Looong Lunch for Community Resilience
Holbrook Drought Preparedness Community Planning Workshop
Corowa Community Nursery Project
Corowa Cultural Awareness Training and Cultural Tour
Connecting the Community to Connect to Country through establishing a Community of Practice in Deniliquin
Chicks in the Sticks – Jerilderie & Moulemein
Construction of the Finley Community BBQ Trailer
Walla & Walbundrie Weeds Warriors  & cultural sites
Riverine Plains Innovation Expos
Nari Nari Cultural Burn Workshop
Inland Delta – Connection to the Community with tours of significant sites in the Western Murray region
Holbrook Drought Preparedness community Planning Workshop
HLN has secured individual funds for two events. This will be the first of the two (taking place this year), and the second to be held next year, with details to follow.

With the forecasted El Nino event in mind, this event will bring our community together to discuss ways for us to cope with the potential impacts this drought period will bring, build our resilience and support one another through times of hardship. So that, when the next drought hits:
everyone knows what the vulnerabilities are within the community
roles within community
how groups can work together and with what resources to support community, and
build stronger, better working relationships with Greater Hume Council
Leaders from across whole of community will be invited to be part of a facilitated workshop designed to set a pathway for future drought preparedness for Holbrook and surrounds. This will be dovetailed in with a dinner showcasing local provenance and ethically produced foods cooked by signature chefs.