Holbrook Self Drive Ecotour
Loop 2: Annandyle Road (40km)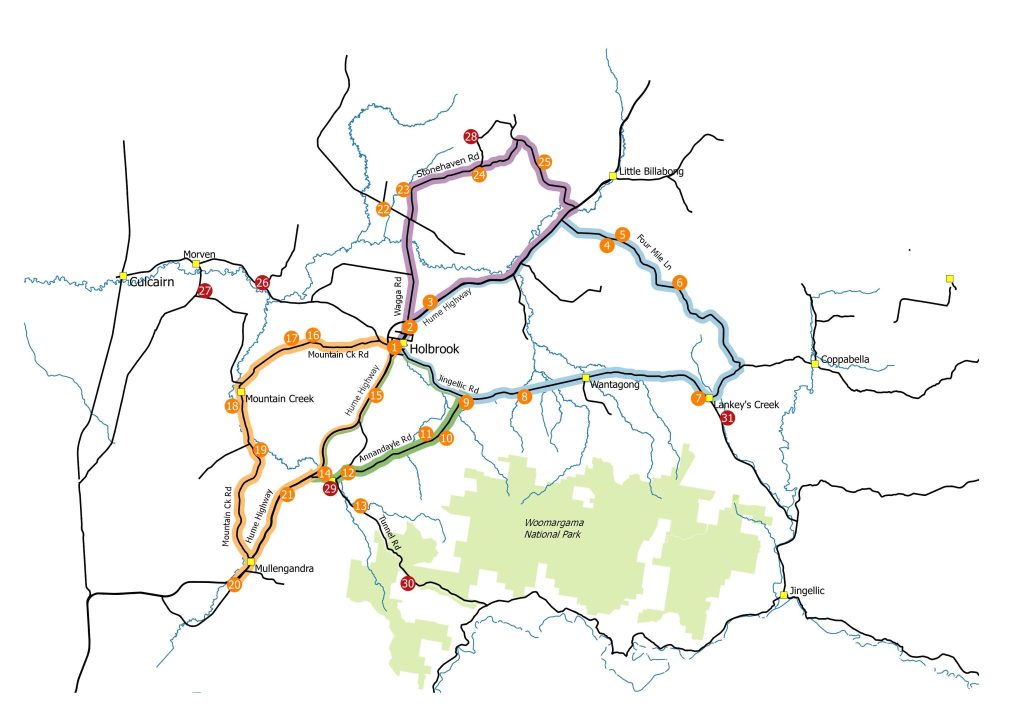 9: Plunkett Family Farm Forestry Site – In 2002 the Plunkett family planted about 4,500 seedlings in 4.5ha. Similar to other farm forestry sites, Plunkett's farm forestry aims to address environmental issues such as waterlogging and salinity. The plants will be used for high quality timber products.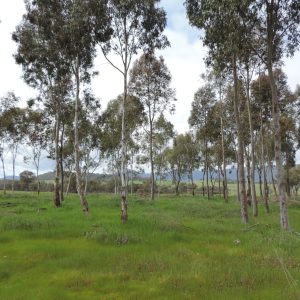 10: Hicks Family's Rebirding Site – Rebirding projects occurred to try and increase the habitat available for small woodland birds and control tree dieback. This site also contained a number of land management issues, such as waterlogging and erosion. The revegetation of this site has successfully created a habitat for many birds, including Scarlet Robins, Choughs and a variety of Honeyeaters.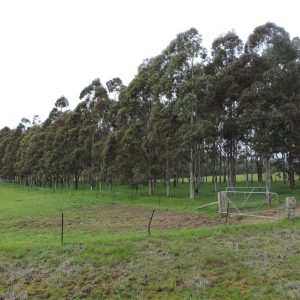 11: Hassall Family's Rebirding Site – In 2002, the creekline was fenced to prevent erosion, promote regeneration, improve water quality and provide a home for woodland birds. The landholder has found since fencing off the creek that the erosion control has been successful. These rebirding sites provide a valuable connection out of Woomargama National Park for many species.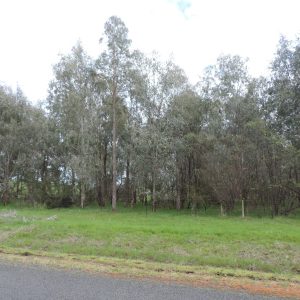 12: Woomargama Town Common – Town Commons are similar to TSR's in retaining original vegetation. The local Woomargama community have fenced out the creek and undertaken revegetation of the Common for nature conservation. In 2016, the Holbrook Green Army team increased the biodiversity of the site by planting out the understory of the existing site, as well as planting out a new site further upstream. The common is a place for locals and visitors to enjoy nature.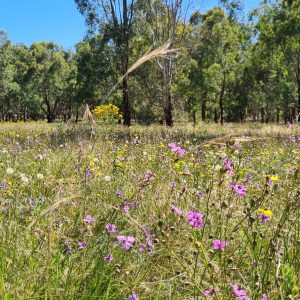 13: Woomargama Station – Woomargama Station aims to demonstrate environmental sustainability while running a productive farm. In 2002, the station was involved in the Holbrook Landcare Network Rebirding project, fencing out and rehabilitating their creeklines. The station is also home to one of the remaining populations of the Southern Pygmy Perch. The creek is completely fenced off from stock to reduce streambank erosion and sediment loss downstream. The station has placed a nature covenant on one third of the property. This covenant aims to manage the grazing sustainably to maintain a balance of production and conservation and retain woodland structure.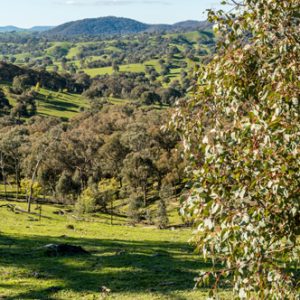 14: Squirrel Glider Statue – The Squirrel Glider statue commemorates the completion of the Hume Highway Woomargama Bypass Project in 2011. The Squirrel Glider (Petaurus norfolcensis) is a small arboreal mammal found in the dry sclerophyll forests and woodlands of Woomargama National Park and surrounding areas. In NSW, the species is listed as vulnerable with threat from habitat destruction, tree hollows being used by introduced species and fragmented landscapes.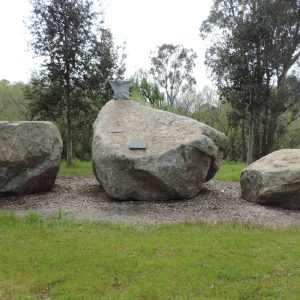 15: Trescowthick Family's Farm Forestry Site – This site is one of several established by the Heartlands project to address salinity and loss of biodiversity, through better management of native vegetation. In 2002 the Trescowthick family planted about 13,000 seedlings.