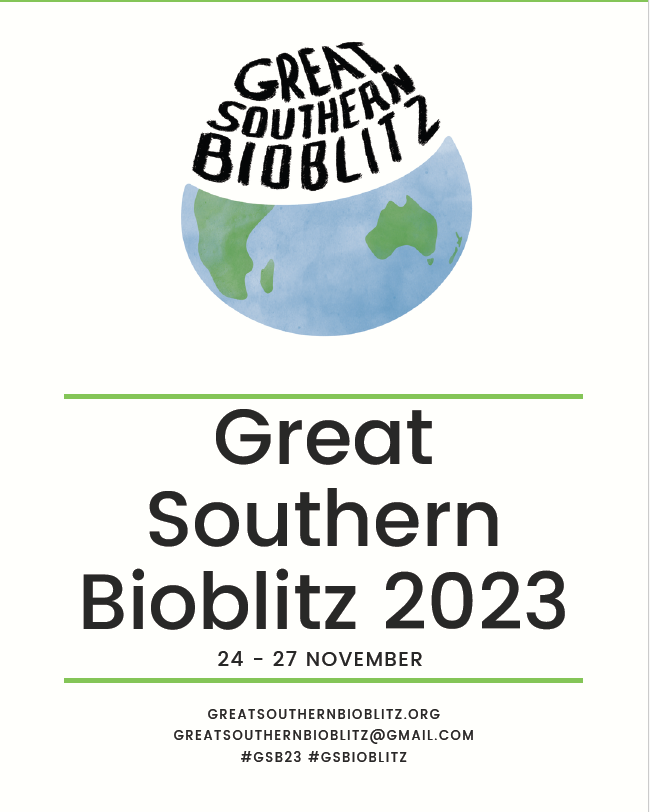 Great Southern BioBlitz 2023 Love your creek!
We are teaming with Refreshing Rivers to participate in the Great Southern Bioblitz 2023, with a focus on our creeks and waterways
WHAT IS A BIOBLITZ?
A BioBlitz is a snapshot study of a specific location, where scientists and the community work together to survey and record as many species of flora, fauna, fungi and aquatic life within a nominated time frame
HOW DO YOU SURVEY?
Get down to your local creek and take photos to upload to iNaturalist – a global app for recording nature. If you join our projects ('Great Southern BioBlitz 2023 – Greater Hume' and 'Refreshing Rivers Upper Billabong ' anything you upload will be able to be seen by everyone else in those projects
We get a great catalogue of plants, animals, birds, fish, insects and any other living things that are living n and using our waterway systems. And we contribute to scientific knowledge, and our knowledge of the catchment. This is a worldwide event with people across the southern hemisphere joining in.
WHAT IF I DONT KNOW WHAT IT IS?
iNaturalist has an identify feature and the iNaturalist community (which includes many experts) can help to identify it after you have uploaded it.
HOW DO I JOIN IN?
Download the app and get an iNaturalist account – We will be running a session in the Holbrook Library in the week prior and can help on the phone
Join the 'Refreshing Rivers' and the "Great Southern Bioblitz – Greater Hume' projects
Get out and start photographing and uploading! Catch a Carp while you are there and win a prize!
For the Bioblitz Holbrook Landcare has some events planned:
Friday 24th – Night walk and moth survey at the Ian Geddes Bush reserve – 8.30 -9.30
Saturday 25th – Tag along surveys at Kylie's favourite Upper Billabong spots – join for one, some or all!
Sunday 26th
– Farm-scale Natural Capital Field day at Woomargama Station 9.30 – 1pm – optional 8.30 am bird blitz in the morning for anyone coming along
– 2-4pm Tag along survey at Woomargama Common
Monday 27th
Holbrook Public school Day
5pm – Wrap up and stats – how many records did we get and what did we see